Ever since I was in school and had read about the freedom fighters being sent to Kala Pani, I had conjured up visions of how it would be, what it would look like and how life must be for the convicts who were sent there for life away from the mainland India. It was known as the Bastile of India. It had witnessed "the saga of struggle for freedom of people kept in bondage by alien power". Mere thinking about it is so horrible and our freedom fighters suffered from this harsh punishment. The prisoners couldn't run away from here as the jail was surrounded by sea.
Yes!, I am talking about the Cellular jail situated on South Andaman Island, one of 572 islands forming the Union Territory of Andaman and Nicobar Islands in India. Andaman and Nicobar are collections of very beautiful and mesmerising islands surrounded by the Bay of Bengal. The idea of establishing a permanent penal settlement in these islands was germinated in the minds of the British Rulers in 1857 to curb India's First War of Independence. The Andaman jail name is Kaala Pani Jail.
The structure of Kala Pani Jail
The first and foremost thing that makes the Kalapana jail unique is its structure. It was built as a seven wing stretching from Central tower prison that spread like starfish or seven spokes of a wheel. Each wing was three-storied. There was also an entrance block to the kala pani jail. It has 696 cells, one for each person. The name Cellular Jail is derived from its unique feature as it has only cells and no dormitories. Each cell measures 13 1/2 'x 7', secured by a heavy iron grill door with a specially designed latch system. Confinement in the small cells gave this facility its name 'Cellular Jail'. 3 feet by 1 feet ventilator, nearly 10 feet high from the door was provided to each cell.  To minimize the chances of conversation possibility among the convict and to isolate them from each other, the construction of the Jail was so made that the front portion of each wing was to face the backside of the other wing.
Cellular Jail was built with local stones that were mined from a nearby mountain by the prisoners. The Jail is made of 20,000 cubic feet of local stones and about 30,00,000 bricks.
The jail has 7 wings and a tower at the centre that is used by guards to keep watch. The concept behind a panoptic design was to allow a single watchman to observe all inmates together without the inmates being able to tell whether they are being monitored or not. Panoptes in Greek mythology was a giant with 100s of eyes. He was known to be a very productive watchman. The wings radiated from the tower in straight lines just the way how spokes are around a bicycle wheel. A large bell is present in the tower to raise an alarm.
How do prisoners live in Kaala Pani Jail?
Other than isolation, the work quotas given to these prisoners were frequently impossible to complete within the time limit and dire punishment followed for those who failed to meet them. Often punishment was inhuman, it ranged from extra hours on the grinding mill to standing handcuffed for a week, to bar-fetters for six months, to confinement in solitary cells, to four days of starvation diet and crossbars for ten days, a punishment which compelled the victim to keep his legs apart. Work on the oil grinding mill was all the more terrible and caused several deaths. Often the revolutionary patriots in the form of prisoners became breathless, with their tongues parched up; limbs numb, hands bruised and brain reeled. And what was their crime? They loved their motherland. We may not be able to sustain the brutality but their mould was different.
Life was very dark and horrible in the Kala Pani Jail cell. There were no toilets. Each inmate was provided with two metal bowls. One was meant for food and the other one was to be used as a toilet and was cleaned out by the prisoners when they were out the next morning. The food that was given was not fit for human consumption. Water consisted of worm-infested rainwater for drinking which was also limited. Each prisoner was allowed only one pinch of salt per day. They were provided with 'Kanji', which means boiled rice churned in water once a day in a bowl of the size of a coconut shell and wild grass was boiled and served instead of vegetables.
The prisoners were kept locked up in bar fetters, metal rods that ran from the elbows to the knees and crossbar fetters, rods that ran between the feet. The only time the fetters were unlocked was when they were let out to do work. Physical torture and flogging were common. Many lost their lives in the Cellular Jail. There were no lights, and no reading material in the jail cell. Prisoners were not allowed to meet with each other. The guards carried out physical torture and flogging. Their behaviour was insulting. Things were unbearable. The remoteness and terror of the facility gave it a name, 'Kaala Pani' (Blackwater). People left hopes once they were inside.
One more experience of a convict in cellular jail used to be, according to the Andaman and Nicobar Gazetteer 1908, the life convicts were received 6 months sentence in the Kala pani jail where the discipline was of severest, later they were sent to the associated jail for 18 months, where the work was hard but discipline was not so much.
Following the next three years in kaala pani jail, the life convicts in barracks up at night and go out to labour under supervision. The life convict in the next 5 years remained to do the labour but was eligible to supervise and opt for the easier forms of labour, he also got a small allowance for little luxuries. , or to save in the special Saving Bank. After 10 years in transportation, he received his release. In that condition, he earned as much as to live in his village and farm, keep cattle or marry. But the end was not here yet. He was not free – no civil rights and couldn't leave the settlement or be idle. Maybe 20 – 25 years later, he might be permanently released. With the help of a self-supporter, he was assisted with a home, and food and paid no taxes but after three to four years, the conditions will change and they might be charged with public payments.
Meaning of Kaala Pani
'Kaala Pani' or 'Black Water' virtually meant cruel treatment to the prisoners till death. A sentence of deportation to 'Kaala Pani' meant a warrant for throwing the prisoner into living hell to face heard or unheard trials and tribulations and to lead a life of a beast or even worse than that. Expatriation to 'Kaala Pani' for life was worse than the death penalty. The Indian revolutionaries were doomed to 'Kaala Pani' to undergo these harsh punishments but they, in turn, immortalised these islands by their selfless sacrifices.
Although the Andaman and Nicobar Islands are among the world's most beautiful islands and neither the soil, nor the water of these islands is black, the British government had created a situation to call these islands 'Kaala Pani' because of the inhuman barbarisms inflicted on the patriot prisoners fighting for the liberation of their motherland who were transported from the mainland and gaoled in these islands. The term "Kaala Pani" is interwoven with the trials and tribulations faced by the brave political prisoners in Cellular Jail and of those freedom fighters of the first war of independence who were brought to these islands to lead a 'hell-like life". Every cell echoes the cruel stories of British rulers and the hardships suffered by the prisoners. Every brick bore the testimony to the reality of horrors and begged question, does fighting for one's human rights deserve such treatment?
The saga of Kala Pani jail is now bought alive in a moving son et Lumiere (Sound and Light Show) by the department of tourism runs this show based on the history of this island and Kala pani jail as if it is told by oldest "Peepal Tree", still standing in jail.
The Cellular Jail stands as a mute spectator to the inhumane sufferings of our freedom fighters and patriots who were imprisoned in kaala pani jail. They even sacrificed their precious lives as victims of brutalities and tyranny of the British and Japanese Governments.
The kala pani jail imparts fear to its spectators and also imbibes a feeling of great respect.
The cellular jail has many such stories that are heart-wrenching and brutal. This reminds me of an interesting story of the Central Park Five, where 5 young teenagers were held responsible for a crime they didn't commit and one of them was treated as an adult and sent to an adult jail in the US. A Netflix original named 'When They See Us' portrayed this story very well on the screen and you will see how actual jails and solitary cells work in the US, which is very brutal and some things are the same in kaala pani jail too.
Tasks for Convicts in Cellular Jail in Pre-Independence Era:
Prisoners below 20 years were not allowed heavy labour here. The literates were employed in the press and the work was assigned to them based on their physical fitness. Political prisoners were treated differently here. Some tasks of Kala Pani Jail were:
Cane and bamboo work
Coconut and mustard oil mills
Husking and opening coconuts
Drying copra
Making hooka shells
Coir pounding
Sisal pounding
Rope making
Carpet making
Weaving towels
Coir and sisal hemp mat making
Cleaning mustard seeds
Blanket mulling
Gardening
Hill cutting and swamp filling in (when necessary)
Miscellaneous such as conservancy, cleaning drains etc. around the jail
Hospital wards coolies, sweeping etc.
Clerical work in the jail office.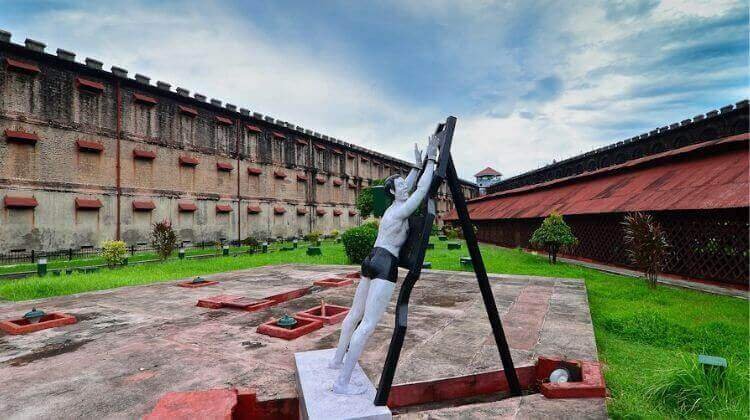 Invasion of the Japanese of Andaman and capture of Kala Pani jail
The Second World War began in 1939 and Japan joined in the fray in December 1941. Japan invaded Urma and Myanmar and the British evacuated Rangoon on 7th March 1942. The first Japanese air raid on Port Blair happened on February 16, 1942, and the situation intensified both by sea and air.
During that time in Andaman, there were 6000 convicts, some were in kaala pani jail and 12000 were of the local-born population. The Japanese began releasing the convicts of the kala pani jail assuring them that there was nothing to fear if they cooperated. They didn't let anyone doubt that they were a conquering army. To terrorize the population, they publicly beheaded Major Bird on the charge of attempting wireless contact with the enemy. Shortly, reprisals began against the Indians.
In October 1943, they arrested 600 people that included women, who were all active members of the Independence league and Local Peace Committee and were brutally tortured. They suspected they were passing sensitive information to the enemy.
The Kala Pani Jail has seen a lot of history; the Japanese surrendered the kaala pani jail after the bombs of Hiroshima bombing by Brigadier AJ Salomon.
After India's Independence, two wings of the jail were demolished. This sparked protests from several ex-prisoners and political leaders who saw it as demolition of history.
The Govind Ballabh Pant Hospital was set up in the area of the Cellular Jail in 1963. Now it serves over 500 patients with about 40 doctors.
In 1979, the Kaala Pani jail was declared a National Memorial by the Prime Minister of India, Morarji Desai. The jail's anniversary is celebrated on 10th March 2006. Many ex-prisoners celebrated on this occasion.
Cellular Jail in the 21st Century
As it has become a tourist spot, there are several guided tours and a sound and light show in the evenings that narrates and showcases the trials and challenges of the prisoners in both English and Hindi. This show is a heartwrenching spectacle of colourful lights with a very enticing commentary. This show will truly enlighten the inner patriot in you.
The Cellular jail has a museum attached to it. It was built after the jail was declared a National Memorial. The museum gives a wholesome insight into which freedom fighters were a part of the jail. It also includes lots of interesting facts and details about the jail's long history and architecture.
Tips for Travellers visiting Kaala Pani
A museum is a must-visit place. Make sure that you reach there before 5 pm.
The light and sound show happens every evening after sunset on the jail premises
The show is conducted in both Hindi and English
The tickets for the light show are limited, so make sure you book it beforehand
Cellular Jail Freedom Fighters
The Cellular Jail is situated about 2km away from the Port Blair city centre. The legendary Kaala Pani jail was built by the British for over 10 years. It is one of the most feared prisons to ever exist from colonial times. Many notable freedom fighters were sent to Cellular jail during the struggle for India's independence like Diwan Singh Kalapani, Fazl-e-Haq Khairabadi, Yogendra Shukla, Batukeshwar Dutt, Maulana Ahmadullah, Move Abdul Rahim Sadiqpuri, Maulvi Liaquat Ali, Babarao Savarkar, Vinayak Damodar Savarkar, Bhai Parmanand, Shadan Chandra Chatterjee, Sohan Singh, Vaman Rao Joshi and Nand Gopal.
Out of them, many freedom fighters died in jail. Mahavir Singh, who was an avid follower of Bhagat Singh, Mohit Moitra and Mohan Kishore Namadas were some of them.
Some prisoners tried to escape like Veer Savarkar. His famous escapade from Kaala Pani is still told but unfortunately, he was caught by authorities as he was boarding a ship to India.
To reach Kaala Pani, you can take transport from Port Blair airport. Port Blair is a small and well-connected city.
Cellular Jail is one of the darkest chapters in Indian history during the British colonial rules and should never be rewritten.
If you are planning to visit Cellular Jail, you must check out this space to know more! Keep following us to know more!